Our Parish Priest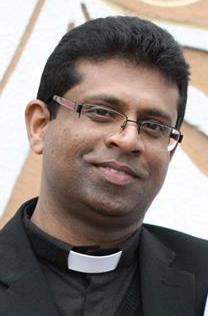 Fr. Baiju Mundackal MSFS
WELCOME to our official website. Catholic Church Grassy Park is a very unique Parish in the Archdiocese of Cape Town, South Africa. It has three churches under its wings – Our Lady Queen of Peace, St. Gerard's and St. Clement's. Each of these churches is distinct and very different from the other, yet it functions as one Parish.
It is a vibrant and active Parish with lots of activities and social commitments. The Parish is trying to live up to the call of our Master and Saviour, Jesus Christ, in its faith life and worship.Thank you for taking time to visit our webpage and hopefully it helped you greatly. For any comments or suggestions feel free to contact our webmaster, Belinda Haydricks at bhaydricks@gmail.com
Fr. Baiju Mundackal, MSFS
More about myself:
My name is Fr. Baiju Mundackal, MSFS. Iím the present Parish priest of Catholic Church Grassy Park. I was born on the 6th of September 1973 at Nellikutty in the state of Kerala, India to Mr. Kurian and Mrs. Aleyamma Kurian Mundackal as the eldest of six children. We are three boys and three girls. Two of my sisters are Religious Nuns and belong to Little Sisters of Bethany. The other sister and two brothers are married and well settled in life with their own families. Both my parents are alive and healthy. I did my schooling in my native village, Nellikutty, in a Catholic Church run school. I was inspired by priests who worked in the parish and Nuns who taught me in school as well as at catechism. When I finished my schooling in 1989 I joined the Minor Seminary of the Missionaries of St. Francis de Sales, North East India Province. I did my Minor Seminary studies for three years and then did the subsequent studies and was Ordained as a Deacon in 2000. On 15th January 2001, I was Ordained as a priest in my home parish, St. Augustineís Catholic Church, Nellikutty along with two of my companions. After the Ordination I worked in India until December 2001 and on the 17th of December 2001 with two other priests of the Missionaries of St. Francis de Sales came to Namibia. I was appointed as the Assistant Priest at Ongha, and then at Anamulenge, in the Archdiocese of Windhoek until 16th April 2007. I was then transferred to Cape Town, South Africa and was appointed as the Parish priest of Holy Trinity Catholic Church, Matroosfontein in the Archdiocese of Cape Town from 21st April 2007 to 21st July 2013. I was transferred to Catholic Church, Grassy Park as the Parish priest and took charge on the 27th July 2013.